Description
Product Compatibility Chart
| | | | |
| --- | --- | --- | --- |
| Make | Model | Years | Notes |
| Vauxhall | Agila | 2004 - 2007 | |
| Vauxhall | Antara | 2006 onward | |
| Vauxhall | Astra | 2004 - 2011 | |
| Vauxhall | Corsa | 2004 - 2016 | |
| Vauxhall | Meriva | 2005 onward | |
| Vauxhall | Signum | 2005 onward | |
| Vauxhall | Tigra | 2004 - 2009 | |
| Vauxhall | Vectra | 2004 onward | |
| Vauxhall | Vivaro | 2006 - 2014 | |
| Vauxhall | Zafira | 2005 - 2012 | |
Fakra to Din Antenna Adapter with Phantom Power Supply. This adapter converts car specific antenna connecter to a DIN aftermarket connector.
Aerial Adapter
An Aerial Adapter is needed when replacing the original factory fitted head unit with an aftermarket head unit. Antenna Adapters are available in both ISO and DIN versions. Antenna Aerial Adapter, converts car specific antenna connector to a universal aftermarket connector.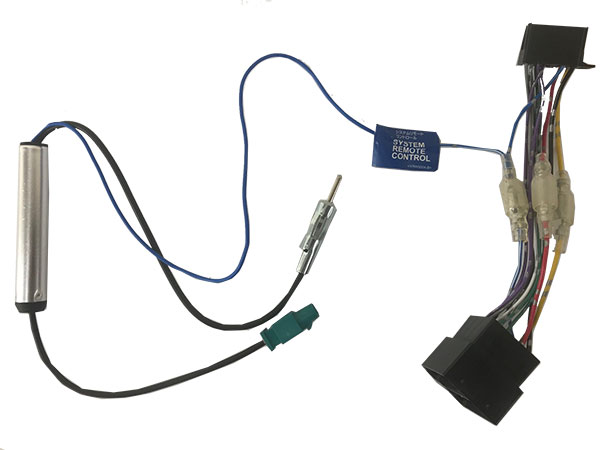 Blue wire requires connection to stereo remote control wire normally Blue or Blue with White stripe as shown in the image above.

Car Audio Fitting Accessories are sold with limited instructions. Some knowledge of car audio installation is helpful, as in some rare case "modification" is necessary.

Please make sure that is the correct Antenna Adapter for your vehicle by firstly checking to see if your vehicle make, model and year is listed in the description. Secondly by checking to see if the connection in the picture listed is the same as you have in your vehicle. If in doubt please email us with your vehicle details and we will confirm what you require.