Description
S2-S69
Newly redesigned and Hi-Res Audio Certified, the Next-Generation S-Series S2-S69 16cm x 24cm (6" x 9") Coaxial Speakers offer a new standard in entry-level sound performance.
We packed supreme capability into these speakers by using highly effective materials and proprietary design elements. The lightweight woofer cone, crafted from a combination of polypropylene, glass fiber, and mica materials, serves up the essential high output / low distortion sound required for High-Res Audio performance. Alpine S-Series speakers feature increased magnet sizes for more power handling and best mid-bass performance in their category.
The woofer's High Amplitude Multi-Roll (HAMR) surround brings out the best in bass by allowing maximum cone movement. A 2.5cm (1") dome tweeter serves up all the high-frequency detail you've been missing with your factory speakers.
All speakers in the S-Series line have a wide vehicle fitment range and include several adapters and spacers. Using in-line crossovers, these speakers can be installed quick and easy even at home.
Alpine S-Series speakers are available in coaxial and component configurations and come in a variety of different sizes, such as 20cm, 16,5cm, 13cm, 10cm, 6x9 inches and 6x8 inches.

The New 2023 S-Series Speaker Line
The S-Series sound system line truly is the Music Lover's Starter Pack, bringing amazing sound quality, exciting bass and even Hi-Res Audio playback into the customer's vehicle at a very affordable price point. The S-Series speakers are available in 9 different configurations.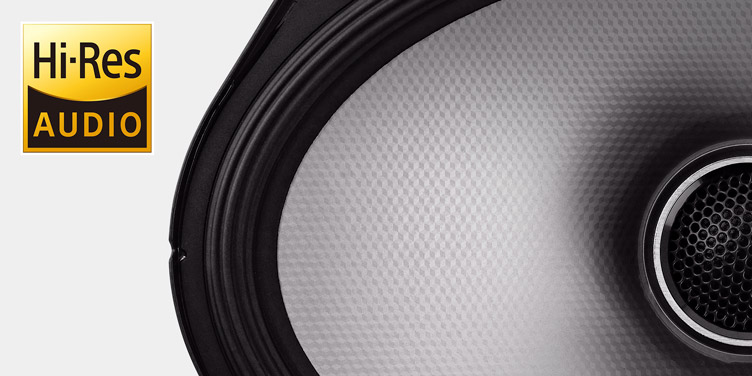 Hi-Res Audio Certified
Using "trickle-down" technology, inspired design, and performance cues from the Ultra-High-Resolution AlpineF#1Status system, the Next-Generation Alpine S-Series Speakers are now Hi-Res Audio Certified and able to reproduce up to 40kHz frequency response. This new benchmark in sound quality elevates the Next-Gen S-Series Speakers resulting in a more accurate and natural sound at an entry-level price point.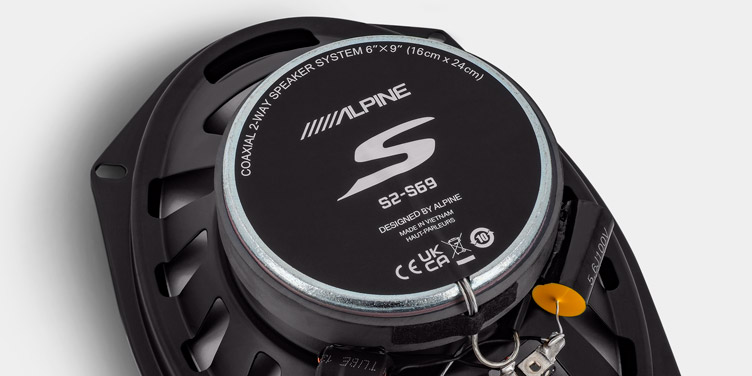 Clean, Accurate Audio
Crafted with a unique combination of Poly Propylene, Glass-Fiber, and Mica Cone materials, the S2-S69 is designed for lightweight construction, high output, and low distortion, giving you a clean and accurate audio experience.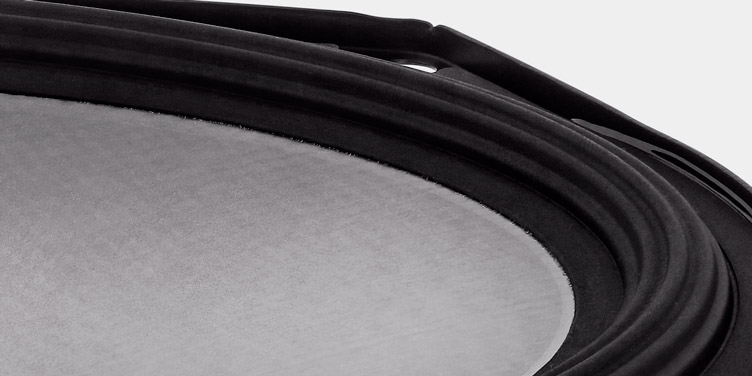 HAMR Surround
Alpine-exclusive High Amplitude Multi-Roll (HAMR) surround technology is integrated into the speaker design which allows for maximum cone movement, delivering powerful and accurate bass notes.
Protect Your Speakers
The S-Series S2-S69 is compatible with the KTE-S69G Speaker Grille (sold separately). This sleek and stylish grill will not only add a visual upgrade to your speakers but also provide protection against any damage.

Made for S-Series Amps & Subs
The S-Series speakers are designed to perfectly match the Alpine S-Series amplifier and subwoofer line for perfect system building. S-Series components are designed to for customers that want to build a great sounding system without breaking the bank, for a fun and great sounding experience including Hi-Res Audio capabilities.
Get Hi-Res Car Audio on a Budget with the Next-Gen Alpine S-Series Speakers
Join Alpine Brooks as he shows off the key features and benefits of the new Hi-Res S-Series Speaker line from Alpine, highlighting the latest technologies and showing you why these speakers are the new standard in entry-level sound performance.
00:00 - Intro
00:33 - S-Series Overview
01:00 - Key Features & Benefits
04:08 - Models Offered
04:56 - Wrap Up
FEATURES
General
Woofer Size: 16cm x 24cm (6" x 9")
Integrated 2.5cm (1") Tweeters (Coaxial)
Hi-Res Audio Certified (up to 40kHz)
Poly Propylene, Glass Fiber, and Mica Cone Material
Lightweight Design with High Output and Low Distortion
High-Amplitude Multi-Roll (HAMR) Surround
Compatible with KTE-S69G Speaker Grills (sold separately)
SPECIFICATIONS
Power Handling
Peak Power: 260 Watts
RMS Power: 85 Watts
Dimensions Woofer
Cutout Diameter: 15.2cm x 22.4cm oval
Mounting Depth: 74.4mm
Mounting Height: 7.3mm
Magnet: 100.0mm
General
Frequency Range: 55 Hz - 40 kHz (Hi-Res Audio Certified)
Impedance: 4 Ohms
Sensitivity: 90 dB/W