Description
ALPINE ILX-705D
DAB AERIAL REQUIRED FOR DAB FEATURE TO WORK. (NOT INCLUDED)
Mechless 7-inch Capacitive WVGA
Bluetooth hands-free and audio streaming
CarPlay and Android Auto
DAB and FM radio
HDMI/ USB rear connection
FLAC/MP3/WMA/AAC playback
TuneIt App Ready Bluetooth Built in
1 x 2v Pre outs
AV Input
Reverse camera Connection with guideline adjustment
Steering wheel remote control compatible
9 band Parametric
Bass engine with sound presets
High and low pass filters
4x50w
Reverse camera is Alpine direct input only. If using a standard RCA reverse camera a 09-18014201-A is required.
1DIN Chassis – 7-inch Touch Screen, built-in Navigation, DAB+, HDMI and Apple CarPlay and Android Auto combatibility
The iLX-705D is the successor of the highly popular, award winning iLX-702D Digital Media Station. This new generation includes many improvements, such as much higher screen resolution, wireless Apple CarPlay, 2 USB ports, as well as a built-in Class-D amplifier and Hi-Res Audio capabilities.
If you look for a high-performance 2DIN system for your car that includes all the latest features, cutting-edge media compatibilities and killer sound quality, the iLX-705D is for you.
Enjoy wireless Apple CarPlay and Android Auto (wired) compatibility, DAB+ digital radio, USB video playback, Hi-Res Audio playback, Bluetooth hands-free and audio streaming and much more with this amazing Head Unit.
Bring exceptionally good sound quality into your vehicle: the Alpine iLX-705D is among the world's first Head Units featuring a built-in Class-D amplifier and has a wide array of professional sound tuning functions, such as digital X-overs, a Parametric EQ, digital time correction and much more.

Next Generation 2DIN Digital Media Station
The iLX-705D is the official successor of the highly popular iLX-702D Digital Media Station. We further improved the product with a ton of new features, more compatibility, a HD screen and the world's first use of a Class-D amplifier inside a Head Unit.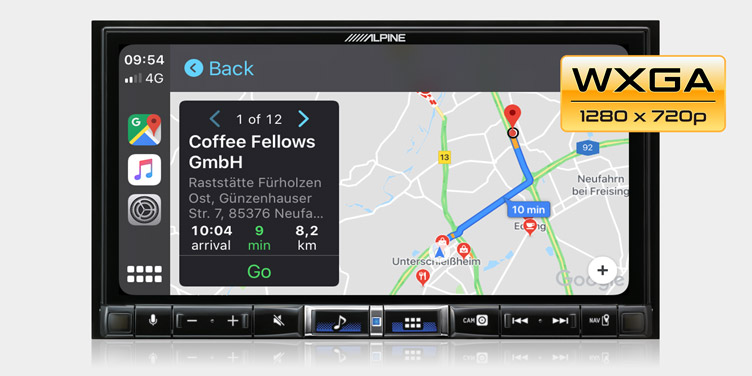 7-inch HD WXGA Display
The iLX-705D features the best 7" display we ever put into a 2DIN unit. The 7-inch HD touch-screen display features a resolution of 1280 x 720p (WXGA) and features stunningly vibrant colors and contrast - making icons, menus and visual content even more crisp in your dash. Especially when displaying small text or similar on navigation maps, you will welcome this high-res screen.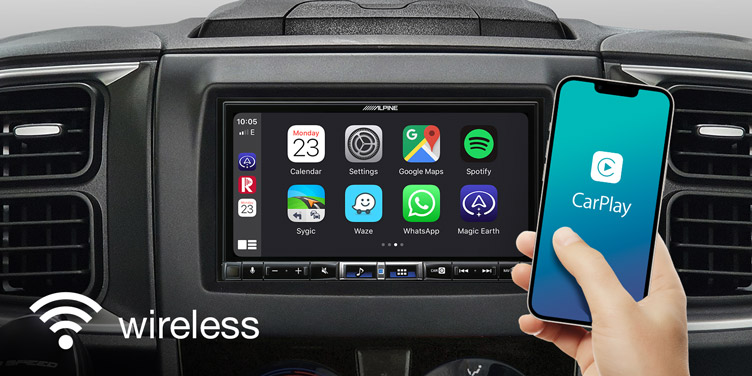 Wireless Apple CarPlay
The iLX-705D "Works with Apple CarPlay" wirelessly and lets iPhone users make and receive calls, access and write text messages, play music, and get direction in a way that allows them to stay focused on the road. Apple CarPlay is accessed through the capacitive touchscreen or the mic button to activate Siri voice control. Due to the WiFi connection, you can keep your iPhone in your pocket and do not need to plug it in all the time (except for charging).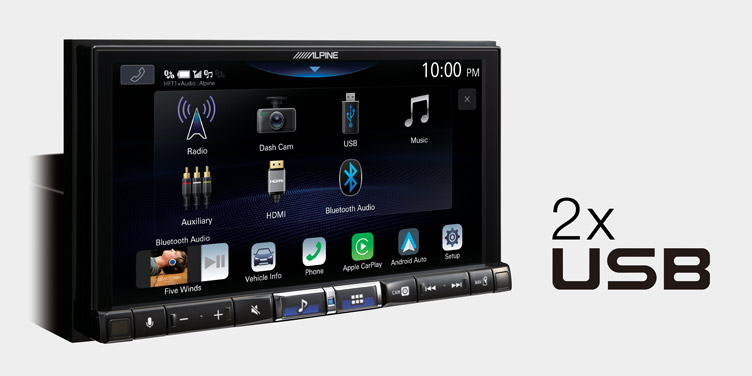 2x USB Ports
While the iLX-705D is mech-less (no built-in CD/DVD drive), you still have plenty of entertainment options. 2 USB ports located on the back of the unit allow you for example to connect one mobile device for charging, while the other USB port is used to plug in a USB stick or hard drive to access audio and video files.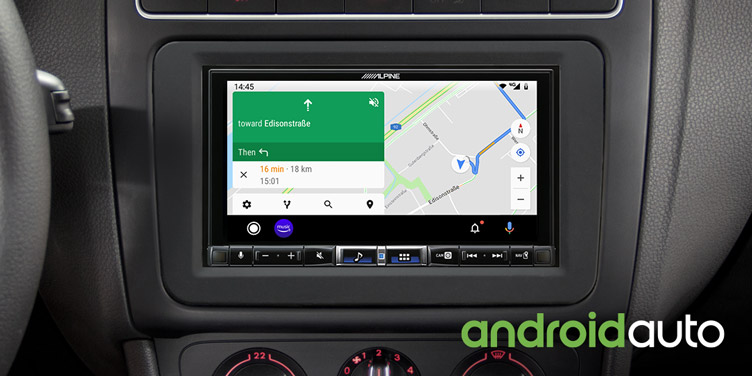 Android Auto Compatibility
Android Auto allows you to use hundreds of useful smartphone apps with your Alpine system (wired connection). There are many popular navigation apps available, such as Google maps, Sygic, Waze, Magic Earth – just to name a few. Enjoy music streaming with Amazon Music, Spotify, Deezer and others and stay connected with WhatsApp and other popular messenger apps – right from your Alpine screen.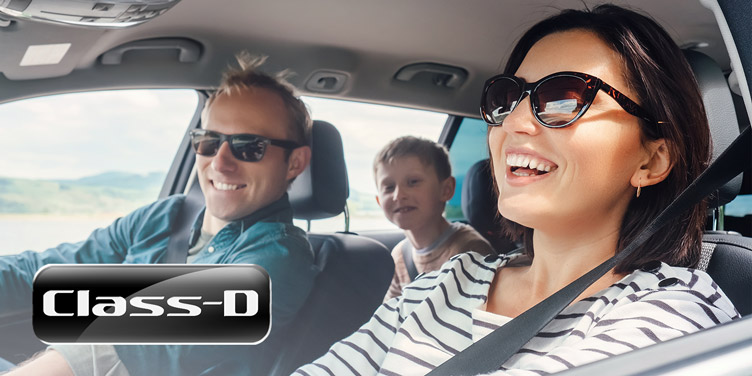 World's First Head Unit With Built-in Class-D Amplifier
The iLX-705D is next to the new Alpine Halo11 and Halo9 the world's first aftermarket Head Unit featuring a built-in 4x 50 Watts Class-D amplifier – allowing excellent, high-end sound reproduction with highly reduced noise or phase shift. The key benefit of Class-D amplification technology is its high efficiency of about 90%, compared to 50 - 70% of Class AB amplifiers. New high-speed fans with internal heat sinks keep your Alpine car stereo cool - and the music playing.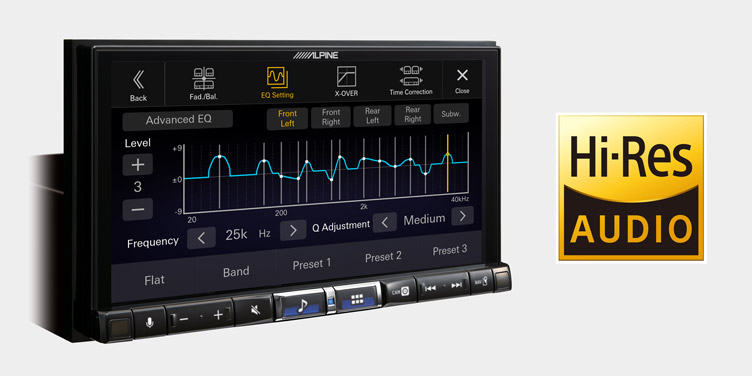 Enjoy Excellent Sound Quality
Featuring a 56-band Parametric EQ in the advanced mode, a 2-way digital X-over, 6-channel digital time correction and several Bass Engine SQ and MediaXpander sound tuning options, you have excellent tools at your disposal to tune your iLX-705D and the attached amp / speaker system to perfection. But we didn't stop there: The iLX-705D is Hi-Res Audio certified and can decode and playback Hi-Res Audio files up to 96kHz / 1.536 kbps from USB sources in uncompressed supported formats such as FLAC, WAV and APE.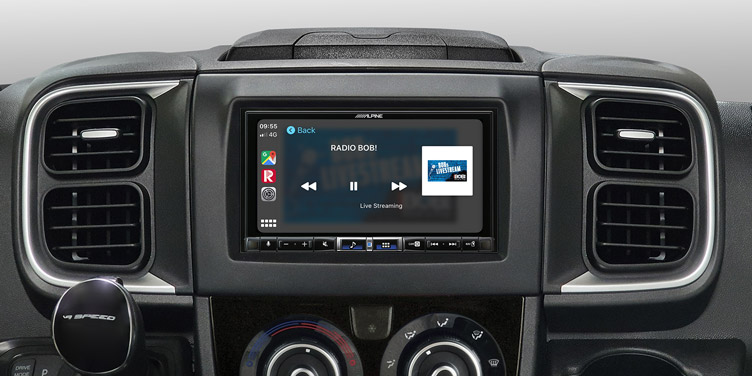 Wide Entertainment Options
The all new DAB/ radio tuner allows DAB – FM switching and lets you enjoy seamless radio reception without interruptions. Next the increased USB video playback formats (MP4, MOV, FLV, MKV), the iLX-705D features many additional entertainment options: the built-in Bluetooth module allows audio streaming from your phone and the HDMI input enables the connection of an external video playback device.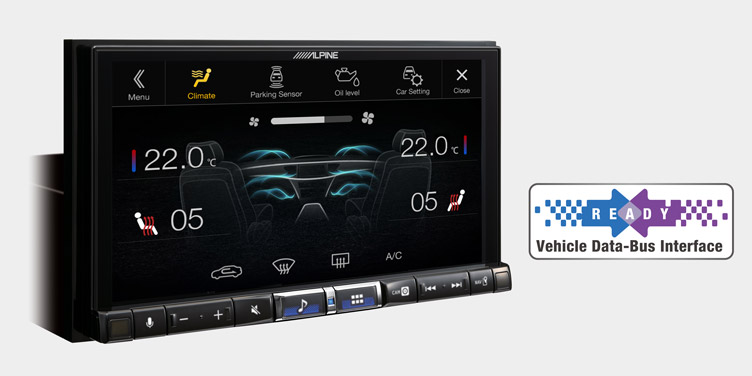 Vehicle Data-bus Connection
If your car is equipped with parking sensors and, you can continue to use these convenient functions with your iLX-705D. Alpine offers many vehicle data-bus interfaces to connect your Alpine to your vehicle's data-bus system. This enables compatibility with your vehicle's steering wheel control buttons, display of air conditioning settings as well parking sensor display.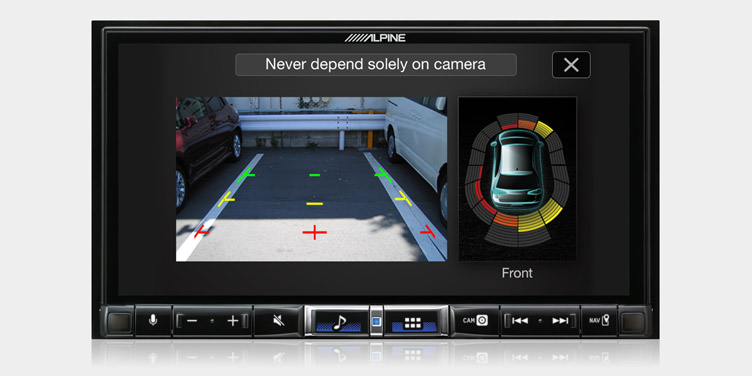 Drive-Assist Cameras
A rear view camera is a great way to make reversing safer. The camera image automatically comes on when you shift into reverse and distance guides that can be adjusted to match your car size will appear on the screen to help you safely park your car. Alpine offers a wide variety of front and rear facing cameras, including multi-view cameras with selectable viewing angles. You can even view the camera screen and parking sensor screen simultaneously, if your car supports it.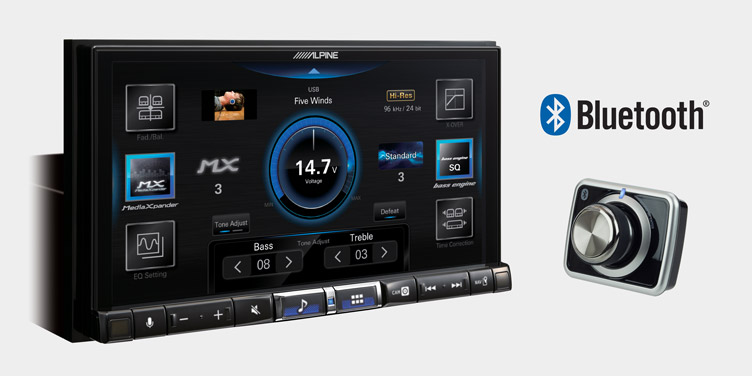 External Control Knob
The separately available RUE-BK01 control knob is actually designed for the 2022 Halo series, but also works with the iLX-705D (requires a custom installation in the center console or dashboard). Turning the knob will adjust the head unit's volume output, while pushing it activates the rear view camera on the screen.
this control knob has no function if wireless Apple CarPlay is active.
FEATURES
Radio / DAB Tuner
Preset Stations (FM: 3x12 / DAB: 3x12 / AM: 2x12)
Memory: Auto Memory
Seek Mode: Local, DX, Pre-Set, Service
RDS Functions: PI, PS, AF, TA, TP, PTY, NEWS, RADIO TEXT
DAB+/DMB Supported
DAB+ Slideshow Service
DLS (Dynamic Label Service)
DAB Service Following
RDS Fallback (where available)
Auto Ensemble/Service Memory
Service Search Function
PTY Search Function
Alphabet Search Function
Bluetooth
Built-in BLUETOOTH® Module V4.2
HFP (Hands-Free Profile) Compatible
A2DP (Advanced Audio Distribution Profile) Compatible
AVRCP (Audio / Video Remote Control Profile) Ver.1.5 Compatible
Phone Book Synchronization
Speed Dial: 4 Preset Memory (per phone)
Call History Display: Outgoing Calls / Incoming Calls / Missed Calls
Redial Function
Speech Volume Level Adjustment: (Outgoing and Incoming)
24 Menu Languages
Microphone Included
Works with iPhone®
Compatible with iPhones and iPods featuring a lightning connector
Various search functions and Album Artwork Display
Battery Charging
Connectivity
Works with Apple CarPlay wirelessly (requires CarPlay enabled iPhone)
Works with Android Auto (Requires Android Auto enabled smartphone, wired connection)
Dash-Cam Link for DVR-C320S to allow playback and control of your dash-cam
Navigation Function
Online navigation capability with Apple CarPlay and Android Auto compatible navigation apps
Includes GPS / Glonass enabled navigation antenna
USB Media Connection
2x USB cable included
USB port 1: data port / USB port 2: charging port
Music Playback: FLAC, MP3, WMA, AAC, WAV, APE compatible
Video Playback: MP4, MOV, FLV, MKV compatible
Supported Video Coding: MPEG-4/H.264 (MPEG-4/AVC)/MPEG-1/MPEG-2
Various search functions included
Sound Tuning
Bass Engine SQ and Bass Engine PRO sound tuning
Subwoofer Level Adjustment
4 V PreOut
10 Equalizer PreSets
13-Channel Parametric EQ x4 audio channels + 4-channel for subwoofer
6-Channel Digital Time Correction
2-way Digital Crossover
Independent Source Volume Level Setting
For detailed sound tuning options please see the owner's
manual PDF below in the "SUPPORT" section
General
4x 50 Watts Class-D High Power Amplifier
9-inch Capacitive Touch-Screen WXGA Display (1280 x 720p)
Display angle adjustable after installation
3 PreOuts (4 V, Front / Rear / Subwoofer)
1 A/V AUX Input (3.5 mm micro jack)
1 HDMI input / 1 HDMI output
2 USB Ports (1x USB data port / 1x USB charging)
Steering Wheel Remote Control Ready
Vehicle Display Interface Ready (UART connection)
Remote Control Ready
2x Camera Connection (Camera Direct connector)
Note: does not support KCX-C250MC camera switch box
Camera Distance Guides (adjustable)
Live Contrast Adjustment
Menu Language: 24 Languages
Auto Dimmer
Anti-theft security code
Engine Start-Stop unaffected
Installation
Various vehicle specific installation kits available
SPECIFICATIONS
Screen
Screen Size: 7-inch Capacitive WXGA
Number of Picture Elements: 2,764,800 pixels (1280 x 3 x 720)
Illumination System: White LED Backlighting
Effective Number of Picture Elements: 99.99%
Colour System: NTSC, PAL
Max Power Output Ratings
Max Power Output: 4 x 50 W
Radio / DAB Tuner
FM Tuning Range: 87.5 - 108.0 MHz
AM Tuning Range: 531 - 1,602 kHz
DAB band III: 174 – 240 MHz
Alternate Channel Selectivity: 80 dB
Signal-to-Noise Ratio: 65 dB
DAB audio format: DAB/MPEG 2, DAB+/AAC,
DMB Profile 1/BSAC/DMB profile 2/AAC
WiFi
Reception Frequency: IEEE 802.11 B/g/n (2.4 GHz)
Channels: 1 – 13 ch (2.4 GHz)
Security Protocols: WPA3/WPA2-PSK (TKIP, AES)
USB
USB Requirements: USB 2.0
USB 1: data port / 2,400 mA (Mass Storage Class)
USB 2: charging port / 1,500 mA (CDP support)
USB Class: Mass Storage Class, Play From Device
File System: FAT16 / FAT32 / exFAT
FLAC, MP3, WMA, AAC, WAV, APE Decoding
Video Playback: MP4, MOV, FLV, MKV compatible
Supported Video Coding: MPEG-4/H.264 (MPEG-4/AVC)/MPEG-1/MPEG-2
Number of Channels: 2-Channel (Stereo)
Frequency Response: 5 - 40 kHz ±1 dB *Frequency Response may differ depending on the encoder software/bit rate
Total Harmonic Distortion (at 1 kHz): 0.005%
DynamicRange(at 1kHz): 95 dB
Signal-to-Noise Ratio: 95 dB
GPS / Glonass
GPS / Glonass compatible navigation antenna included
GPS frequency: 1575.42 +/- 1.023 MHz
Reception sensitivity (search): - 136 dB max
GPS / Glonass
GPS / Glonass compatible navigation antenna included
BLUETOOTH®
BLUETOOTH® Version: Bluetooth V4.2
Output Power: +4 dBm Max. (Power class 2)
HFP (Hands Free Profile)
OPP (Object Push Profile)
PBAP (Phone Book Access Profile)
HSP (Head Set Profile)
A2DP (Advanced Audio Distribution Profile)
AVRCP (Audio/Video Remote Control Profile)
SPP (Serial Port Profile)
Supports LDAC Audio Codec
Sound Tuning
Subwoofer Level Adjustment: 0 to +15
Subwoofer Phase Setting: 0° or 180°
BASS ENGINE SQ: 5 Modes, Level 0 to +6
For detailed sound setting bands and frequencies please see the owner's manual PDF below in the SUPPORT section
HDMI Section
Input Format 720p / 480p / VGA
General
Power Requirement: 14.4 V. DC (11-16V allowable)
Pre Output Voltage (Before Clipping): 4 V / 10k ohms
Dimensions
Weight: 2.3 kg
Chassis Size (W x H x D) mm: 178 x 50 x 150 mm
Display Size (W x H x D) mm: 232 x 151 x 55 mm
Technical
Android Auto
Yes
Apple CarPlay
Yes
Dab Radio
Yes
Navigation System
Yes
Screen
7-inch Capacitive WXGA
Size
Double Din
Max. Power Output
4 x 50W
Tuner
Yes
Radio Data System
Yes
Display Illumination
7-inch HD WXGA Display
Bluetooth
Yes
Works with iPhone
Yes
Aux In
Yes
USB
Yes
Pre Out
3 PreOuts