Don't miss a thing in reverse.
This high-quality, NTSC universal camera displays a mirror-image on your tuner's screen, giving you a full view of everything the rear-view mirror fails to show.
The high-sensitivity lens has a wide 138° angle line of sight. The embedded CMOS sensor automatically adjusts brightness in light or dark driving conditions. With a resolution of 330,000 pixels, the sensor is as accurate as it is sensitive. The camera even eliminates over-exposed images by removing the white streaks as direct sunlight enters the lens.
The ND-BC8 can be hooked up to any of our systems equipped with a rear camera input.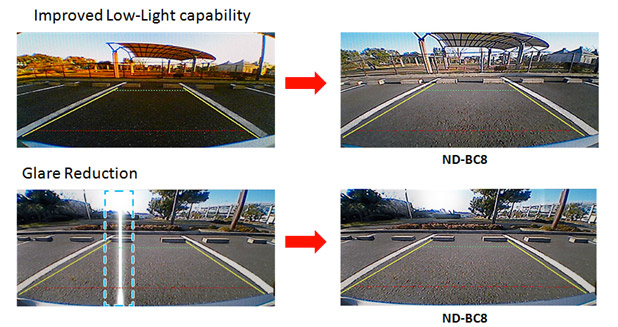 Parking Assist Line Are Not Provided By The Camera
Pioneer ND-BC8 Features
Dimensions (W x H x D) Camera: 23 x 23 x 24 mm
Power unit: 54 x 24 x 24 mm
Weight Camera: 132 g
Power unit: 110 g
Other 0.33M pixels 1/4" CMOS sensor
Cable: 10 m (3 m + 7 m)
We always recommends that you have your installation carried out by a qualified installer. Our experienced technical staff can take care of all kind of car audio upgrade jobs.
Car Stereo
Multimedia Audio Visual (Sat/Navs, Headrest Screens, Roof Screens etc.)
Speakers/ Subwoofers / Amplifiers
OEM Adapters Installation (DAB, iPod, iPhone, USB, Bluetooth, Aux)
Bluetooth Car Kit Installation
Car Security Alarms
Vehicle Tracking Systems
Reversing Camera / Parking Sensors
Dash Cameras
All installations are carried out at our London Installation center, Vehicle must be brought for installation.