MiVue™ C380 PRO FIT
Your Personal Eyewitness On The Road - Pro Fit Bundle
The essential Full HD dash cam with All-round vision Sony's high quality optic sensor for both front and rear cams Safety camera waring
Top Features
2.0 Inch Display Screen
Dual Camera (Front & Rear)
1080p Full HD recording at 30 fps
2.0M pixel Camera Sensor
130° wide angle view
Safety camera warnings
3-Axis G-Sensor
Built-in GPS Tracking
F2.0 brighter and clearer lens
Safety camera warnings
GPS tracking
32GB High Endruance MicroSD™ Card Included
(max up to 128GB)
1080p Full HD recording at 30 fps
1080p Full HD recording at 30 fps - with the latest H.264 technology for high quality videos at a smaller file size
130° wide angle view
To clearly capture every detail at critical moments with wide dynamic range technology.
Safety camera warnings
Free safety camera data with monthly updates for the lifetime of your device
3-Axis G-Sensor
When the G-sensor detects sudden motion, MiVue will save and lock the event recording to protect it from being deleted/overwritten. The integrated 3-axis Sensor records G-forces, which show the direction and force of accident impacts.
SPECIFICATIONS
Display & Video
Display size 2.0"
Recording resolution 1080p Full HD @30fps
Optic Sensor AIT8328D
Video Sensor SOI JX-F02
Aperture F 1.8
Recording Format .MOV (H.264)
Lens Viewing Angle (Wide-Angle)130°
Night Mode
Hardware
GPS
3-axis G-sensor
MemorymicroSD, up to 128 GB (class 10)
Battery240mAh
Power Connector Mini USB
Height(mm) 51.2
Width(mm) 62.6
Depth(mm) 37.4
Weight(gr) 59.5
Rotating Mount
Rear Camera
Software
GPS Tracking
Safety Camera Warning
Cruise Control Reminder
HUD Display Mode
Event Recording
EV Adjustment 7 settings
GPS coordinates photos
Postpone 10 Second
Photo Mode
Auto Power On
Manual
Automatic
Speed Limit Alert
Whats In The Box
1 x MiVue™ C380 GPS
1 x MiVue™ A30 Rear Camera
1 x MiVue™ Smart Power Box
1 x 3M Sticky Mount
1 x 32GB Endurance SD Card
1 x In-vehicle Charger
1 x In-vehicle Mounting Bracket
1 x Quick Start Guide
WE STRONGLY RECOMMEND THE USE OF A HIGH ENDURANCE SD CARD TO AVOID ANY ISSUES WITH FULL FUNCTIONALITY.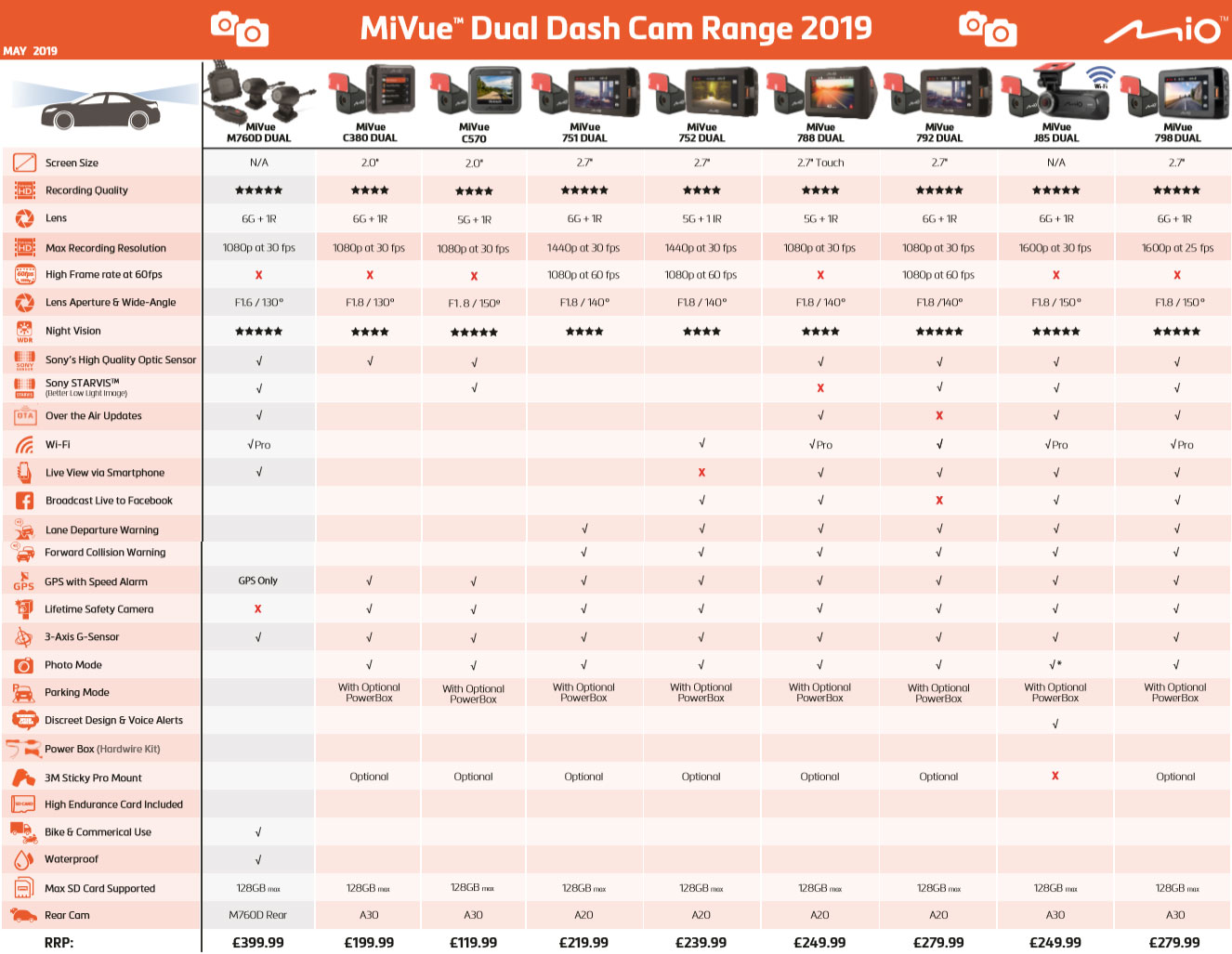 We always recommends that you have your installation carried out by a qualified installer. Our experienced technical staff can take care of all kind of car audio upgrade jobs.
Car Stereo
Multimedia Audio Visual (Sat/Navs, Headrest Screens, Roof Screens etc.)
Speakers/ Subwoofers / Amplifiers
OEM Adapters Installation (DAB, iPod, iPhone, USB, Bluetooth, Aux)
Bluetooth Car Kit Installation
Car Security Alarms
Vehicle Tracking Systems
Reversing Camera / Parking Sensors
Dash Cameras
All installations are carried out at our London Installation center, Vehicle must be brought for installation.