Kenwood KSC-SW11 Key Feature
150W peak power
Powered subwoofer
Aluminum Die-cast frame
Noise-less sound
Wired remote (Level/Freq./phase control)
Line(RCA) + speaker level input
Speaker Features
Active subwoofer speaker system
150W Peak Input Power
Speaker Size 200 x 120 mm
Ferrit Magnet Type
Wired remote included
Amplifier Included Built-in
Enclosure size (BxHxD) 190 x 70 x 280 mm
Enclosure net weight 2.8 kg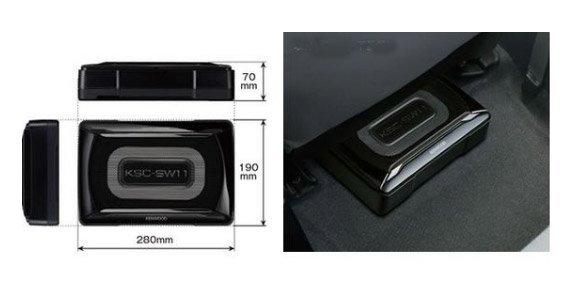 Amplifier Features
150W Maximum power output
Low-pass Filter
Phase inverter 0°(Normal) / 180°(Reverse)
Power Indicator
RCA Line in
Speaker level Input
Chassis Aluminum Die-cast
DC cable Supplied
Speaker/woofer Specifications
150W Peak Input Power
Steel Speaker Basket
Rubber Speaker Surround
Amplifier-Specifications
Maximum power output (4Ω) 150W x 1
Low-pass Filter 50~125 Hz
Frequency response (+0dB, -3dB) 35Hz ~ 150Hz
Operating voltage 14.4V (11V ~ 16V allowable)
Maximum current consumption 8.5A
Accessories
Wired Remote Control
500 cm DC Cord
Screws (Parker-type) Ø 5 x 16mm, 4 pieces
Screws (M-type) M4 x 6mm, 4 pieces
Tape 1 pieces
Bracket A 2 pieces
Bracket B 1 pieces
We always recommends that you have your installation carried out by a qualified installer. Our experienced technical staff can take care of all kind of car audio upgrade jobs.
Car Stereo
Multimedia Audio Visual (Sat/Navs, Headrest Screens, Roof Screens etc.)
Speakers/ Subwoofers / Amplifiers
OEM Adapters Installation (DAB, iPod, iPhone, USB, Bluetooth, Aux)
Bluetooth Car Kit Installation
Car Security Alarms
Vehicle Tracking Systems
Reversing Camera / Parking Sensors
Dash Cameras
All installations are carried out at our London Installation center, Vehicle must be brought for installation.