Autoleads SOT-060 Cellular Lead suitable for:
BMW E31 (1990 onwards)
BMW E32/38 (1987 to 1994)
BMW E34 (1988 to 1996)
BMW E36 (1991 to 1999)
BMW E36 (2005 to 2006 / Coupe Only)
BMW E39 (1996 to 2000)
BMW E46 (1998 to 2001, 2002 to 2005)
BMW Mini (2001 to 2006) Round Pin
BMW M3 (2001 to 2007)
BMW M Series (1998 to 2000)
BMW Z3 (1997 onwards)
BMW X3 (2004 to 2006)
BMW X5 (1999 to 2007)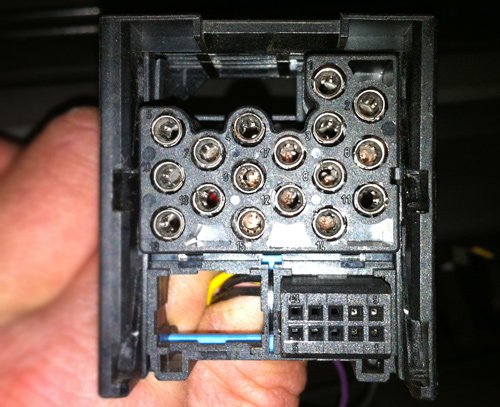 Please see pic to see what the connection should like inside the vehicle
The SOT-060 mute lead features original 17 pin connectors on each end of the wiring harness, plus a pair of male and female ISO connectors in the centre of the harness. This allows aftermarket accessories with ISO connectors (i.e Parrot bluetooth handsfree kits) to be plugged easily into the original radio speaker cable.
IMPORTANT NOTE:
We try to provide upto date information. If you are unsure about the model number please feel free to contact our customer service
on 020 8875 2525 and we will be happy to help you selecting correct SOT Lead for your car.
You can also
email us
if you require any other accessories i.e. fascia panels, double din kit, speaker adaptor, wiring harnesses, aerial adaptors and stalk adaptors, to install the radio in your vehicle. We have everything in stock.
We always recommends that you have your installation carried out by a qualified installer. Our experienced technical staff can take care of all kind of car audio upgrade jobs.
Car Stereo
Multimedia Audio Visual (Sat/Navs, Headrest Screens, Roof Screens etc.)
Speakers/ Subwoofers / Amplifiers
OEM Adapters Installation (DAB, iPod, iPhone, USB, Bluetooth, Aux)
Bluetooth Car Kit Installation
Car Security Alarms
Vehicle Tracking Systems
Reversing Camera / Parking Sensors
Dash Cameras
All installations are carried out at our London Installation center, Vehicle must be brought for installation.