iLX-W650BT 7" Digital Media Station, Featuring Apple CarPlay and Android Auto Compatibility
The Alpine iLX-W650BT Digital Media Receiver features a 7-inch hi-res capacitive touchscreen, which works perfectly with smartphone connectivity features like Apple CarPlay and Android Auto. It is designed to give smartphone users all features they want and need to enjoy their car rides. The high-speed charging function for smartphones ensures that your phone battery is rapidly charged, while Bluetooth audio streaming allows everyone in the car to contribute with their phones and music to the party on the road.
The unit features a very shallow installation depth of only 6 cm, which allows installation even in vehicles without full DIN-sized installation docks.
You can further upgrade your iLX-W650BT with the KTA-450 4-channel power pack or KTA-200M mono power pack amplifier with PowerStack capability, to increase your sound output by five times. Both units can be mounted together, to create a very compact package that can fit into a regular 2DIN space. This Power-Stack design won a "Best of CES Award 2019".
This product's AM / FM radio tuner does not have RDS capabilities.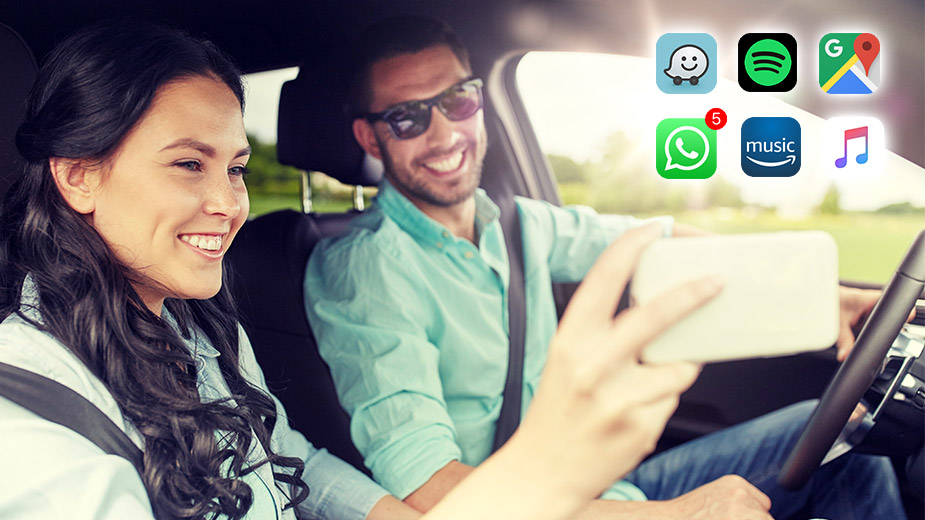 Enjoy Seamless Smartphone Connectivity
Do you carry all your music with you on your smartphone or love to stream music through Spotify, Amazon Music or other online platforms? Do you love to navigate using Google maps or other amazing navi apps? The Alpine iLX-W650BT is an amazing products that allows you to make full use of your smartphone in the car — without breaking the bank.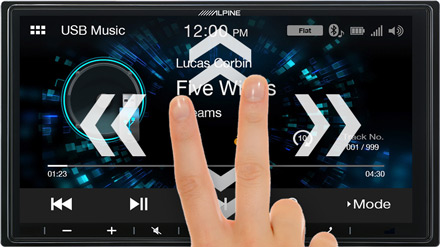 Simple Swipe Controls
Use multi-touch gestures anywhere on the iLX-W650BT Receiver's 7" screen to control your music while keeping your eyes on the road. A two-finger swipe motion moving up, down, left, or right can control volume up or down and track skip forward or back. Pinch-to-zoom motions allow you to control your navigation display in Apple CarPlay and Android Auto.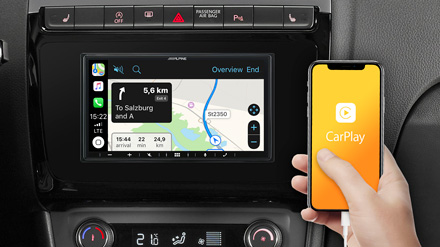 Easy Navigation
Using your smartphone device, launch Apple CarPlay or Android Auto maps to get you to your next adventure. Either use the "voice" button located on the receiver or your smartphone to get turn-by-turn directions. Front and rear view cameras can also be installed and accessed on the receiver for drive- and parking assist features.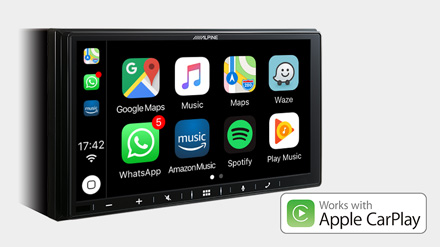 Apple CarPlay
The iLX-W650BT "Works with Apple CarPlay" and lets iPhone users make and receive calls, access text messages, play music, and get directions in a way that allows them to stay focused on the road. Apple CarPlay is accessed through the capacitive touch screen or the mic button to activate Siri voice control and is compatible with iPhone 5 and later (iPhone must be connected via Apple lightning cable).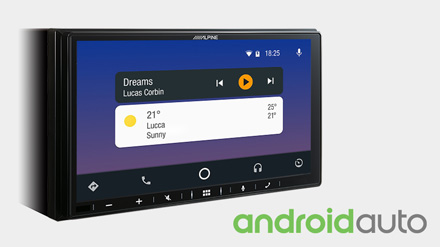 Android Auto
The iLX-W650BT is compatible with Android Auto and works with the Google Assistant (requires both a USB cable and Bluetooth® connection; requires an Android™ phone running 5.0 [Lollipop] or higher and the Android Auto app). To access the Google Assistant on Android Auto, say "OK Google" or select the mic button. Google Assistant in Android Auto allows users to play their favorite music, get driving directions to their destination, interact with smart home devices and reply to text messages – hands free.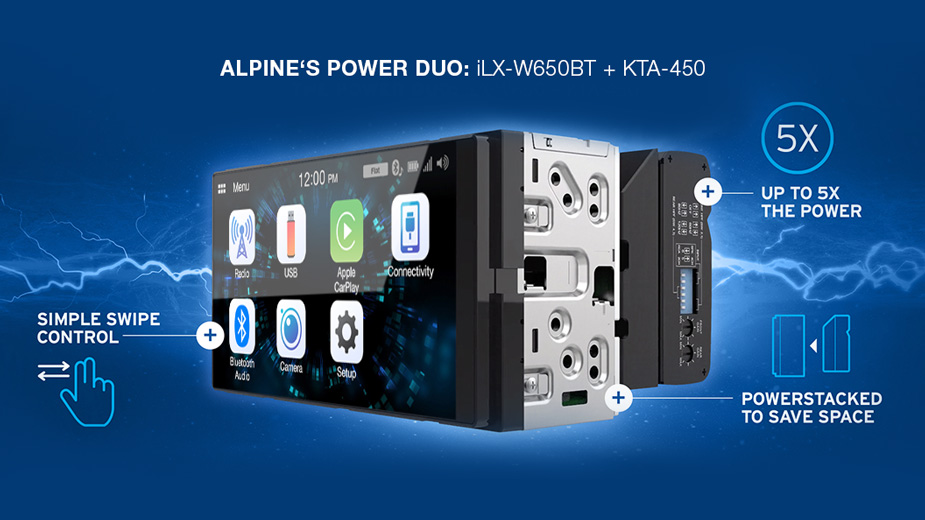 iLX-W650BT and KTA-450 Power Duo
The PowerStack system combines the iLX-W650BT with Apple CarPlay™ and Android Auto™ and the KTA-450 amplifier to create the most powerful 2-DIN head unit on the market.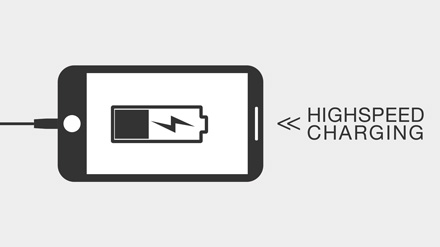 High-Speed Charging
Connect your smartphone via USB and charge your phone with high-speed charging technology. This ensures that your smartphone is rapidly charged while you drive and is ready to use when you exit your car.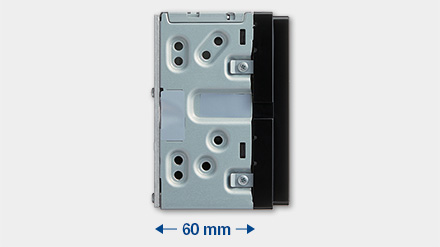 Shallow Installation Depth
The iLX-W650BT's chassis is only 6 cm deep, allowing it to be installed even in vehicles with 2DIN radio dock without full DIN size depth. This makes this unit very versatile and easily upgradeable with the KTA-450 power pack.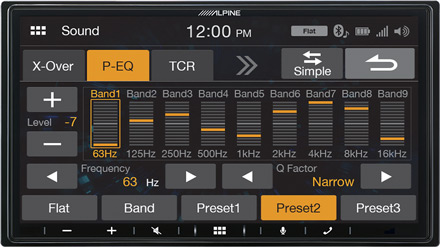 Amazing Sound Tuning
This Digital media Station comes packed with many amazing sound features, such as 9-Band Parametric EQ, 6-Channel Digital Time Correction, Digital Crossover, Alpine's digital sound enhancer for compressed audio files "MediaXpander" and much more.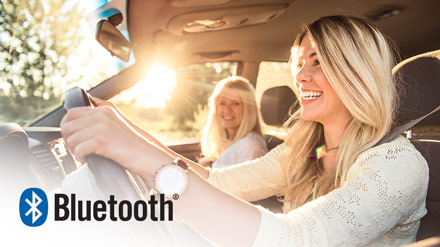 Built-in Bluetooth
The built-in Bluetooth module allows hands-free operation of your mobile phone while you drive. You can also stream music via Bluetooth to your Alpine iLX-W650BT and enjoy the sound through your car's audio system.
Create The Most Powerful 2-DIN Head Unit On The Market
The KTA-450 includes all an installation bracket with screws that allows it to be attached to the back of the iLX-W650BT for an amazing power boost.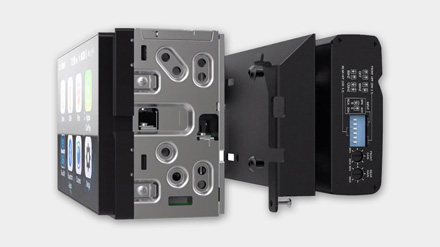 Up to 5x The Power
Give your iLX-W650BT a sound boost with the 4-Channel KTA-450 Power Pack amplifier, that emits 4 x 50 Watts RMS. Thanks to Alpine's exclusive Dynamic Peak Power (DPP) technology, this can even increase to 100 Watts DPP per channel during dynamic musical passages.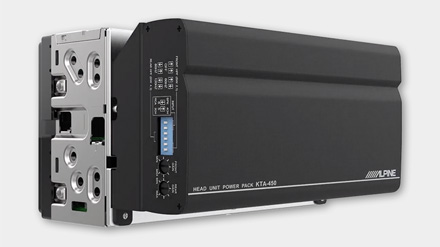 Power-Stacked To Save Space
Mounted together, the iLX-W650BT and the KTA-450 amplifier measure at less than 12,7 cm deep, so they can fit in any standard 2DIN radio dock to create Alpine's award winning Power-Stack design. Brackets and included cable harnesses allow for a fast and easy install. Enjoy the extra sound system boost without the bulk and hassle of a traditional amp.
Features
General
7-inch capacitive touch screen with swipe graphical user interface
AM / FM tuner (non RDS)
Works with Apple CarPlay
Works with Android Auto
9-Channel Parametric EQ
Digital Crossover
6-Chanel Digital Time Correction
Built-in Bluetooth for audio streaming and hands-free operation
MediaXpander
USB port
Included microphone
Steering Wheel Remote Control Ready
2 camera inputs (front and rear)
3 PreOuts (4 Volts)
KTA-450 Power Pack Ready
FLAC / MP3 / WMA Playback (from USB)
USB video playback
Specifications
Monitor Section
Screen Size
: 7 inch
LCD Type
: Transparent type TN LCD
Operation System
: TFT active matrix

Number of Picture Elements: 1,152,000 pcs. (800 × 480 × 3 (RGB))
Effective Number of Picture Elements
: 99% or more
Illumination System: LED
Tuner Section
FM Tuning Range
: 87.5 – 108.0 MHz

AM Tuning Range: 531 – 1,602 kHz
Signal-to-Noise Ratio
: 65 dB

USB Section
USB requirements
: USB 2.0

Max. Power Consumption: 1,000 mA (CDP Support)
USB Class: USB (Play From Device) / USB (Mass Storage Class)
File System
: FAT16/32

Dynamic Range
: 95 dB (at 1 kHz)

Signal-to-Noise Ratio
: 100 dB

Bluetooth Section
Bluetooth Specification: Bluetooth V4.2

HFP (Hands-Free Profile)

PBAP (Phone Book Access Profile)
A2DP (Advanced Audio Distribution Profile)
AVRCP (Audio/Video Remote Control Profile)
General
Power Requirement: 14.4 V DC 
(11–16 V allowable)
Operating temperature
: -20 degree Celcius to + 60 degree Celcius
Power Output
: 4 x 16 Watts RMS
Weight
: 0.92 kg
Chassis Size
Width: 178 mm
Height: 100 mm
Depth: 60 mm
Technical
Size
Double Din
Max. Power Output
4 x 50W
Tuner
Yes
Radio Data System
Yes
Display Illumination
7 inch High Resolution Display
Android Ready
Android Auto
Works with iPhone
Yes
Aux In
Yes
USB
Yes
Pre Out
3 PreOuts
We always recommends that you have your installation carried out by a qualified installer. Our experienced technical staff can take care of all kind of car audio upgrade jobs.
Car Stereo
Multimedia Audio Visual (Sat/Navs, Headrest Screens, Roof Screens etc.)
Speakers/ Subwoofers / Amplifiers
OEM Adapters Installation (DAB, iPod, iPhone, USB, Bluetooth, Aux)
Bluetooth Car Kit Installation
Car Security Alarms
Vehicle Tracking Systems
Reversing Camera / Parking Sensors
Dash Cameras
All installations are carried out at our London Installation center, Vehicle must be brought for installation.