ALPINE ILX-702DM
Reversed Chasis (on top) Mechless 7-inch Capacitive WVGA
Bluetooth hands-free and audio streaming
Car Play and Android Auto
DAB and FM radio
HDMI/ USB rear connection
FLAC/MP3/WMA/AAC playback
TuneIt App Ready Bluetooth Built in
1 x 2v Pre outs
AV Input
Reverse camera Connection with guideline adjustment
Steering wheel remote control compatible
9 band Parametric
Bass engine with sound presets
High and low pass filters
4x50w
SPECIAL ORDER ITEM
7" Digital Media Station, featuring Apple CarPlay and Android Auto compatibility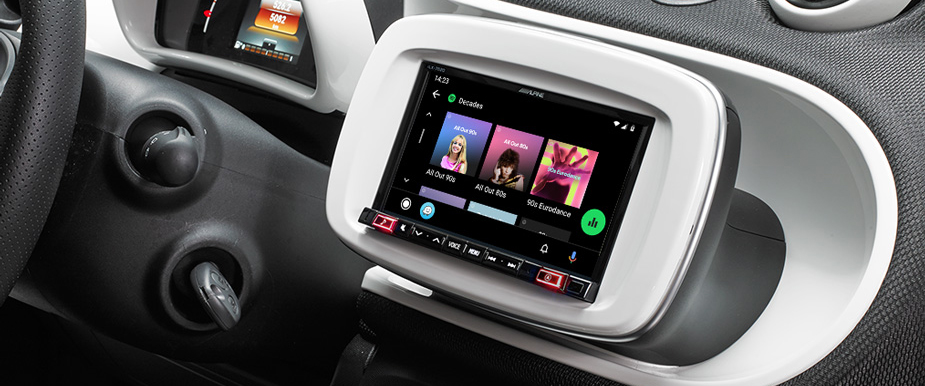 The iLX-702DM Digital Media Station brings the latest media compatibility, online navigation capability and Alpine's audiophile sound quality to your ride. It is fully compatible with the latest smartphones such as the iPhone 11 and the Galaxy S10 and lets you use Android Auto and Apple CarPlay on its 7-inch high-resolution touch screen.
DAB+ digital radio, USB video playback, HDMI connectivity and the latest Bluetooth technology are built-in as well.
There is also a modified version of the iLX-702DM: while features and functions are the same, the iLX-702DM has a modified rear chassis (chassis is installed in the upper position).
DAB AERIAL REQUIRES DAB RADIO TO FUNCTION INCLUDED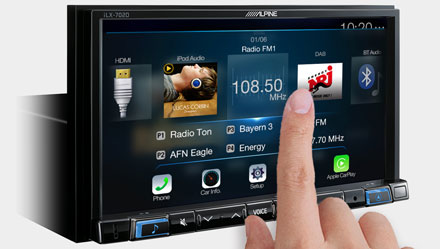 High Resolution WVGA Touch Screen
The 7-inch (17.8cm) high-resolution WVGA display allows full operation of the system via touch-screen technology and features the latest video enhancement technology for outstanding picture clarity, contrast and resolution. This allows online navigation maps to be displayed in stunning detail, while movies or video clips become a real cinematic experience. The user interface is very intuitive and is designed to perfectly integrate into your vehicle. You can choose from a variety of screen colours and designs to best match your taste and vehicle.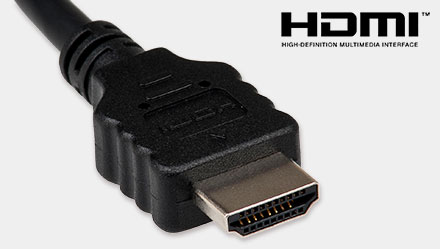 Connect USB and HDMI Sources
You can connect USB sticks and portable hard drives to playback audio and MP4 video files. The iLX-702D is also equipped with an HDMI input to connect the optional Alpine DVD player DVE-5300 or any other portable media player with HDMI output. You can also connect your smartphone if an HDMI adapter for your phone model is available to enjoy the video or photo content on the Alpine screen (requires additional cables and adapters). The iLX-702D includes an HDMI output as well to connect a rear monitor system via HDMI.
Note: The HDMI output is a pass-through of the HDMI input and can therefore not be used to output USB video content, Apple CarPlay or Android Auto content.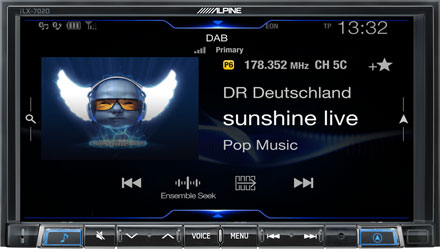 DAB+ Digital Radio
The built-in DAB/DAB+/DMB tuner uses the most advanced digital technology to deliver radio reception in outstanding, noise-free sound quality. DAB+ also offers many other advantages over traditional FM radio: select from a much wider range of radio stations and after an initial station scan you can easily select your desired channels from an alphabetic and genre list of available stations.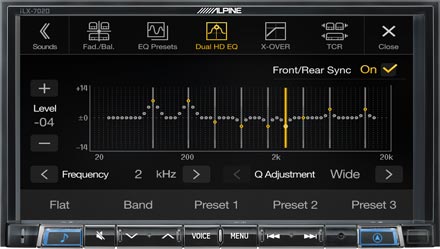 High-end Sound Tuning Options
The iLX-702D puts the power of advanced sound processing in your car with BASS ENGINE SQ to maximise bass sound and overall tone balance, plus lots of custom tuning functions like Digital Time Correction, Digital X-Over and Dual 9-band Parametric EQ. Best of all, you can set them easily from your smartphone with the Alpine TuneIt App. You also get Media Xpander, 24-Bit DAC and 3 PreOuts (4 Volt) as well.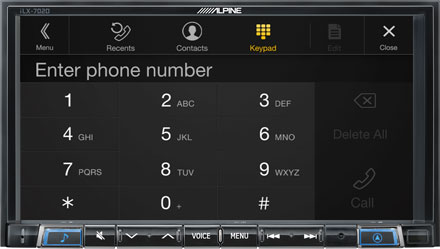 Built-in Bluetooth® Technology
The built-in Bluetooth® module allows wireless connection of a mobile phone for hands-free communication. A very intuitive user interface makes it very easy to set microphone and speaker volume. It also includes a speed dial function for the most frequently called numbers. Bluetooth® also enables audio streaming from the phone: audio content or even internet radio can be wirelessly transferred to your Alpine unit.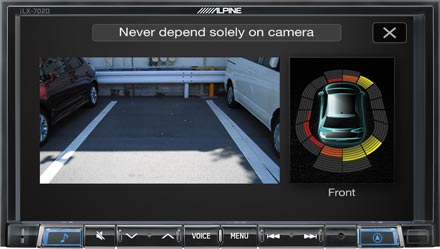 Drive-Assist Cameras
A rear view camera is a great way to make reversing safer. The camera image automatically comes on when you shift into reverse, and distance guides that can be adjusted to match your car size will appear on the screen to help you safely park your car. Alpine offers a wide variety of front and rear facing cameras, including multi-view cameras with selectable viewing angles and touch-control from your screen. You can even view the camera screen and parking sensor screen simultaneously.
7-inch Screen with 1 DIN chassis
More and more vehicles feature a dashboard space for a 7-inch or 8-inch screen, however behind the screen there is often no space to fit a full 2DIN chassis. For this reason, Alpine offers 2 different chassis versions of this product. The regular iLX-702D with the chassis on the lower positions, as well as the modified version called iLX-702DM (the 1DIN chassis on its upper position on the back).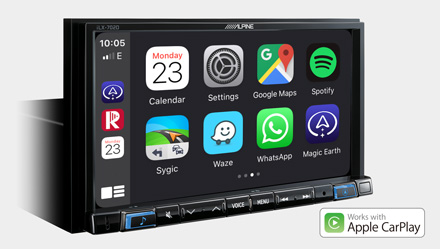 Works with Apple CarPlay
The innovative iLX-702D with Apple CarPlay compatibility brings you a smarter way to use your iPhone on the road. Apple CarPlay gives iPhone users an incredibly intuitive way to make calls, use maps, listen to music and access messages with just a word or a touch. You can even enjoy Spotify, internet radio or podcasts while on the road for a truly connected experience. Simply connect your CarPlay enabled iPhone to the USB port of your Alpine and you are ready to go.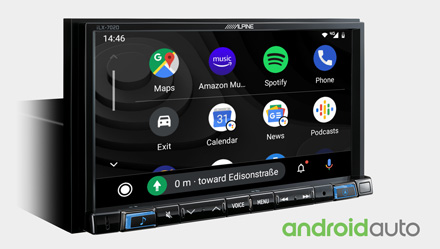 Works with Android Auto
Android Auto was designed with safety in mind. With a simple and intuitive interface, integrated steering wheel controls, and powerful new voice actions, it's designed to minimize distraction so you can stay focused on the road. Android Auto automatically brings you useful information, and organizes it into simple cards that appear just when they're needed. Both Apple CarPlay and Android Auto can access the navigation antenna of the iLX-702D for highest accuracy when using the navi apps.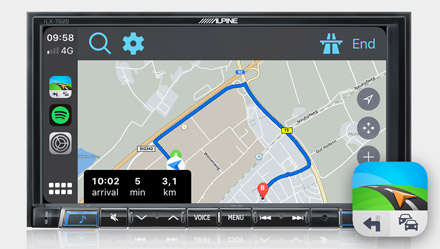 Sygic
The app will guide you safely to your destination even without an internet connection. Sygic includes high-quality 3D maps. Regular map and application updates are free of charge. With Sygic GPS Navigation, you can easily escape the traffic or find the best parking spot. You will also have up-to-date information about fuel prices on petrol stations. And you will avoid speeding tickets with speed limit and speed camera warnings (currently available for Apple CarPlay only).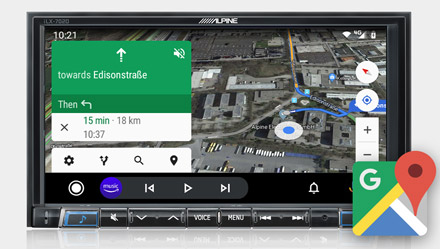 Google Maps
Over 220 countries and territories mapped and hundreds of millions of businesses and places on the map. Get real-time GPS navigation with satellite view, traffic, and transit info, and explore local neighborhoods by knowing where to eat, drink and go - no matter what part of the world you're in.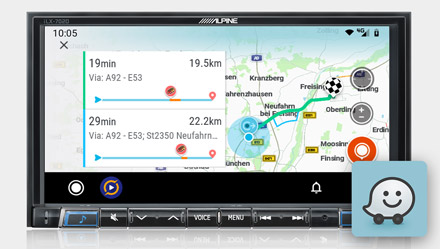 Waze
Waze is another highly popular, community-based navigation app. Always know what's happening on the road. Even if you know the way, Waze tells you instantly about traffic, construction, police, crashes, & more. If traffic is bad on your route, Waze will change it to save you time.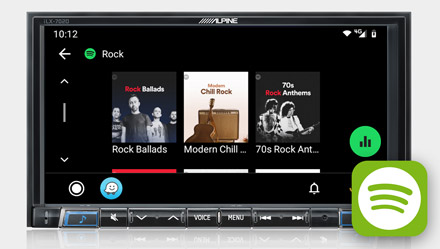 Spotify
Spotify is the best way to listen to music and podcasts. Search for any track, artist or album and listen for free. Make and share playlists. Build your biggest, best ever music collection. Get inspired with personal recommendations, and readymade playlists for just about everything.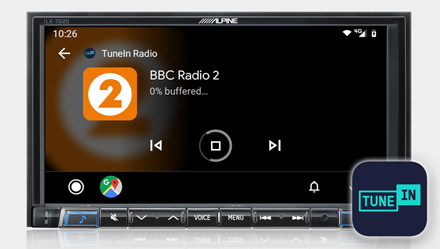 TuneIn Radio
TuneIn Radio brings you live sports, music, news, podcasts, and internet radio from around the world. Listen to the audio you love on any device and let the moments move you.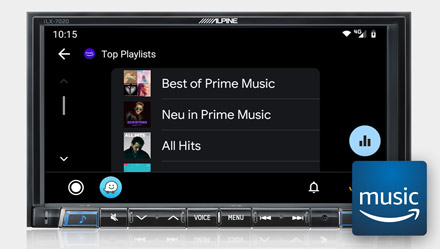 Amazon Music
Amazon Music changes the way you find and play the music you love. Listen free with a Prime membership or get more with Amazon Music Unlimited. Go hands-free with Alexa - no searching or browsing required. Explore curated playlists and stations, always ad-free and with unlimited skips. Download your favorite albums, songs, and playlists to your mobile device for offline listening. Your music is available anytime, anywhere.
FEATURES
Tuner
Memory Presets: Preset Stations (FM: 24 / MW: 6 / LW: 6)
Memory: Auto Memory
Seek Mode: Local / DX Selection
RDS
RDS Functions: PI, PS, AF, TA, TP, PTY, NEWS, RADIO TEXT
DAB Tuner
DAB+ Tuner Built-in
DAB+/DMB Supported
DAB+ Slideshow Service
DLS (Dynamic Label Service)
DAB Service Following
RDS Fallback (where available)
Service Pre-set: 18 Pre-set Memory
Auto Ensemble/Service Memory
Service Search Function
PTY Search Function
Alphabet Search Function
Antenna Power Supply Selection
BLUETOOTH®
Built-in BLUETOOTH® Module
Wide Band Speech Technology
HFP (Hands-Free Profile) Compatible
Streaming Music: A2DP (Advanced Audio Distribution Profile) Compatible
Streaming Music Control: AVRCP (Audio / Video Remote Control Profile)
Ver.1.5 Compatible
Advanced BLUETOOTH® Technology
Connection: SSP (Simple Secure Pairing) Supported
Individual Profile Connection Hands Free Phone and Music Streaming
Phone Book: Phone Book Synchronization
Speed Dial: 4 Preset Memory (per phone)
Multiple Phone Number Registration: 5 Phone Numbers can be stored for one name
Device Name Display
Auto Answer
Connection: SSP (Simple Secure Pairing) Supported
Call History Display: Outgoing Calls / Incoming Calls / Missed Calls
Redial Function
Speech Volume Level Adjustment: Possible for Outgoing and Incoming Volume
DTMF (Touch-Tone) Function
Signal Strength Indicator
Menu Language Selection: 24 Languages
Firmware Updatable
Microphone Included
Made for iPod® / iPhone®
Compatibility for iPod/iPhone: compatible with all models except 1st and 2nd generation iPhone
Connection: KCU-461iV / KCU-471i Required (Sold separately)
Music & Video Playback Compatible with KCU-461iV only
Available Selections: Playlist / Artist / Album /Song / Podcast / Genre / Composer / Audiobook
Alphabet Search
Artwork Display
Direct Up / Down: Playlist / Artist / Album / Genre / Composer
M.I.X. (Shuffle) Play: Song, Albums, All
Repeat
Battery Charging
Connectivity
Works with Apple CarPlay (requires CarPlay enabled iPhone)
Works with Android Auto (Requires Android Auto enabled smartphone)
USB Media Connection
USB Connection: USB Extension Cable Included
Music Playback: FLAC/MP3/WMA/AAC compatible
Video Playback: MP4 compatible
File / Folder Name Search
Tag Info Search
Folder Up / Down
M.I.X. Random Play
Repeat
SPECIFICATIONS
Max Power Output Ratings
Max Power Output: 4 x 50 W
FM Tuner
Tuning Range: 87.5 - 108.0 MHz
Mono Usable Sensitivity: 8.1 dBf (0.7 µV / 75 ohms)
50dB Quieting Sensitivity: 12 dBf (1.1 µV / 75 ohms)
Alternate Channel Selectivity: 80 dB
Signal-to-Noise Ratio: 65 dB
Stereo Separation: 35 dB
Capture Ratio: 2 dB
MW Tuner
Tuning Range: 531 - 1,602 kHz
Usable Sensitivity (IEC Standard): 25.1 µV / 28 dBf
LW Tuner
Tuning Range: 153 - 281 kHz
Usable Sensitivity (IEC Standard): 31.6 µV / 30 dBf
GPS / Glonass
GPS / Glonass compatible navigation antenna included
HDMI Section
Input Format 720p/480p/VGA
Output Format 480p
General
Power Output: 4 x 50 W High Power Amplifier
Advanced Power IC
Display: 7 inch Capacitive WVGA High Resolution Display
White LED Backlighting System
Control Type: Touch, Drag, Flick
My Favorites Function
Automatic Setting Change for 2 Users
High Grade Audiophile Design
3 PreOuts (2 V, Front / Rear / Subwoofer)
AUX-In: 1 A/V AUX Input (3.5mm micro jack)
Steering Wheel Remote Control Function
Vehicle Display Interface Ready (UART connection)
Remote Control Ready
Navigation Guidance Mix
Camera Connection & Built-in Controls for Multi-View Cameras
Camera Guide Line Adjustment
Rearview Camera Display Automatic Boot-up
Simple Mode & Info Mode Display Selection
Visual EQ
Live Contrast Adjustment
Clock
Auto Dimmer
Anti-theft security code
Firmware Updatable
Power Antenna Lead
Remote Turn-On
HDMI Input
Engine Start-Stop unaffected
Ready for optional DVD Player DVE-5300
Dimensions
Din Size: 1DIN chassis and 7" Capacitive Touch Screen
Chassis Size (W x H x D) mm: 178 x 100 x 147 mm
Nose Piece Size (W x H x D) mm: 170 x 96 x 17 mm
THESE ITEMS ARE SHIPPED DIRECTLY FROM MANUFACTURER. COLLECTION IS NOT AVAILABLE IN STORE. DELIVERY CAN TAKE 7 TO 14 WORKING DAYS
PLEASE EMAIL US TO CHECK FOR STOCK AVAILABILITY AS THESE ARE SPECIAL ORDER ITEMS.
Technical
Size
Double Din
Max. Power Output
4 x 50W
Tuner
Yes
Radio Data System
Yes
Display Illumination
7 inch High Resolution Display
Button Illumination
Variable RGB Illumination Buttons
Works with iPhone
Yes
Aux In
Yes
USB
Yes
Pre Out
3 PreOuts
We always recommends that you have your installation carried out by a qualified installer. Our experienced technical staff can take care of all kind of car audio upgrade jobs.
Car Stereo
Multimedia Audio Visual (Sat/Navs, Headrest Screens, Roof Screens etc.)
Speakers/ Subwoofers / Amplifiers
OEM Adapters Installation (DAB, iPod, iPhone, USB, Bluetooth, Aux)
Bluetooth Car Kit Installation
Car Security Alarms
Vehicle Tracking Systems
Reversing Camera / Parking Sensors
Dash Cameras
All installations are carried out at our London Installation center, Vehicle must be brought for installation.